Company News
Jun 16, 2019
ALPHA GLOVEBOX DECOMMISSIONING CHALLENGE
This highly skilled project explores how to use lasers and autonomous grasping to cut
up – and dispose of – decommissioned gloveboxes that have become
contaminated with alpha emitters.
Project Title:
Alpha Glovebox Decommissioning Challenge
Project Duration:
Feb 2018 to Jan 2019
Project Facilitators:
Project Collaborators:

Project Overview:
The UK's civil nuclear industry is focussing on decommissioning alpha gloveboxes and legacy crates at Sellafield Ltd with the main theme being hazard reduction.
The project is looking at how to cut up and handle obsolete gloveboxes that have become alpha-contaminated. This is currently achieved manually or by simple teleoperation.
Project Aims:
The project aims to help Sellafield Ltd by:
Removing / reducing the human operator from the hazardous process / environment
Improving productivity
Improving the efficiency of waste packing
We have a sort and segregation challenge, split into two phases:
Phase A: The Alpha Active Demonstrator is currently being designed to size reduce (by laser cutting) the gloveboxes
Phase B: To optimise the current process with functional technologies from leading SME's (mentioned in collaborators list above)
Other opportunities: To segregate Low Level Waste (LLW) and Plutonium Contaminated Material (PCM) to reduce costs of PCM-compliant drums needed
Project Details & Contributions:
The project has been divided into five Work Packages for each contributing partner with NNL managing the portfolio of work.
Work Package 1: ROBOT CONTROL & MODEL – University of Strathclyde
Feasibility of gantry mounted robot (7th axis control): The University of Strathclyde assessed six robot cell layout options and chose the best one to enable automated decommissioning of alpha-contaminated glovebox assets
Developed design concept: Design has been integral to ensure the robotic capability is robust and fit for purpose for a radioactive environment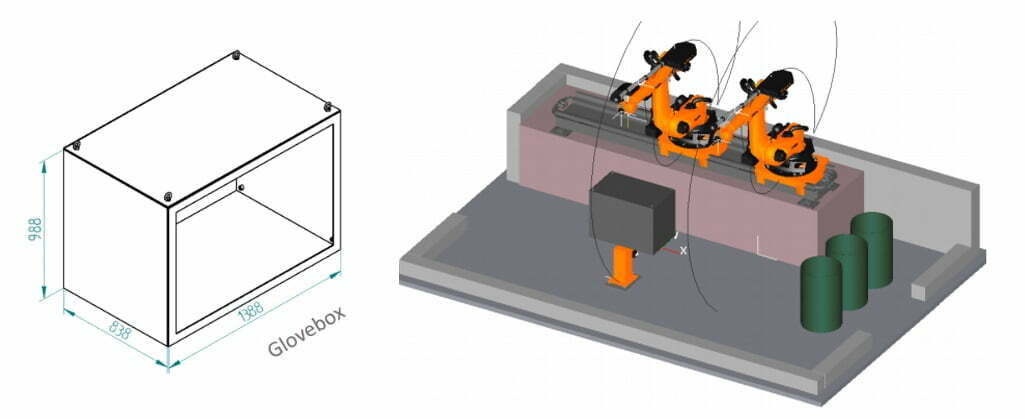 Laser head end effector and cell environment simulation: The University was tasked with modelling TWI's laser head end effector within a suitable software platform (V-REP software)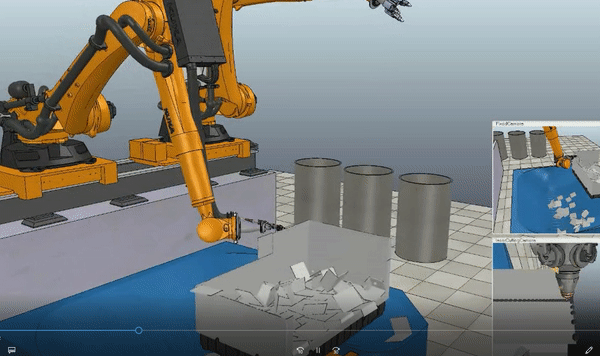 Simulated path planning: Work has been undertaken to create and simulate the robot tool-paths for size reducing the alpha-contaminated glovebox with respect to the laser cutting requirements
Simulation software review: Shadow has tested their smart grasping using the simulation software package MuJoCo – a physics engine that is designed for the purpose of model-based optimisation; particularly optimisation through contacts
Compatibility of integration of simulation software: Shadow tested the grasping capability of their smart grasping end effector against the same data used by the collaborating partners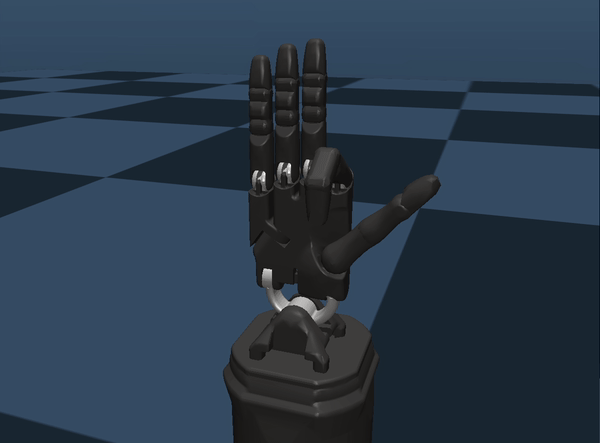 Simulated trials: Grasping simulated trials were conducted to prove the functionality of the end effector. Using the glovebox partition data, four key trials were conducted
Pick and place real-life tests: Shadow performed various grasping tasks on the glovebox objects. They have quantified data taken within the simulation and compared this to data taken from the real hardware tests
Developed laser cutting head: TWI has researched, designed, developed and manufactured a new light-weight compact decommissioning laser specific cutting head
Laser marking: When the glovebox asset has been size reduced, a laser could mark each waste partition to visibly show the waste stream route that the item must go to once characterisation of the partition sections has occurred
Written text & QR codes: The laser head can create clearly-visible written text onto a metal surface. It can also create QR codes (readable by a QR code device) onto a metal surface

Fume management and impact on ventilation: Although data has not been captured, beam modulation trials show that metal cutting with a modulated beam is a viable option, and may improve not only the safety case because of potential reduction of stray laser beams, but also the impact on fumes produced
Work Package 4: AUTONOMOUS CONTROL SOFTWARE – I3D ROBOTICS
Vision System specified measurements: I3D Robotics looked at the feasibility of various technologies that could provide the control system with visual data. They found that the single camera / multipoint analysis technique is fit for glovebox detailed mapping
Stereo Hi-Resolution (Phobos): Imaging accuracy of Phobos was tested using a flat plane with objects on it resulting in perfect image matching. A glovebox might require better illumination and also a different texture pattern projected onto the surface.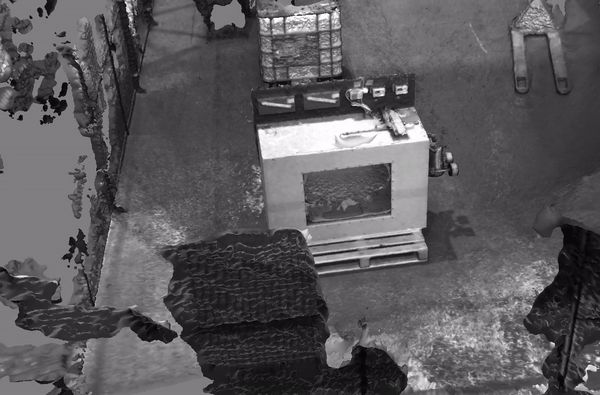 Measurements of real glovebox: The Deimos system was used for Stereo Low-Resolution as well as used to measure the real glovebox at the NNL facility, both with and without the built-in IR projector. This real-time stereo measurement offers a good compromise between speed and accuracy

Work Package 5: NUCLEAR REQUIREMENTS – NNL
Mechanical considerations: The NNL has provided expertise in the system design delivery. They have experience with working with KUKA and have successfully facilitated implementation of a manufactured Commercially-Off-The-Shelf (COTS) robot onto a nuclear licensed site.
Maintenance and robot recovery: NNL has stated that a maintenance area, which has lower levels of contamination, would allow person access to perform essential maintenance tasks. A contamination free area will be near impossible as the robots will inevitably become contaminated with alpha contamination during cutting operations
Laser cutting considerations: It is important to reduce the amount of dross during the cutting process but also ensure that the dross does not disperse. The orientation and position of the laser head when cutting will need to be tested to improve the laser cutting parameters
Project Exploitation:
There is an anticipated robotics market of order £200million per year for remote intervention work in Britain. It is unclear exactly what proportion could be captured from our proposed technologies however, it has obvious potential for application in numerous sites world-wide
The technology is also scalable and transferable to other platforms (nuclear estate assets, routine maintenance/inspection and decommissioning in any country that has a nuclear history legacy)
The project has helped Shadow to further develop their teleoperation systems and permit Shadow's hardware for light industrial applications (e.g., glovebox tasks) in the immediate future and move on to addressing heavy engineering applications in the next stage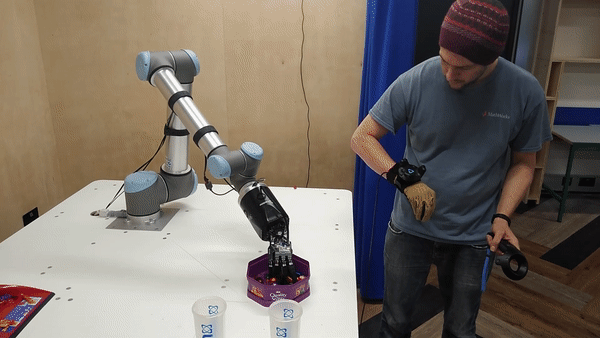 The Shadow Robot Company is proud to be a part of a new technological advancement stemming from a collaboration between a global engineering team. Together, we have pioneered the world's first telerobot to transmit touch to the operator from around the world.
In tests, an operator wearing a 'cyber glove' in California was able to accurately guide a Dexterous Hand located at Shadow's London HQ. They were able to 'feel' the sensation of the robot hand touching an object 5,000 thousand miles away, thanks to the fingertip sensors on the Shadow device relaying information to controller's haptic feedback gloves.
Project Conclusions:
The Alpha Glovebox Decommissioning project has successfully demonstrated the feasibility of developing an autonomous robotic control system
The recommendation for developing the next phase of this Innovate UK project successfully is for further funding to be available, allowing the collaborators to increase the Technology Readiness Level (TRL) of each system component, and as one control system
The funding will allow all collaborators to amalgamate their research into one functional robotic control system, allowing the autonomous sort and segregation system to be rigorously tested
If you have any questions regarding the project or any of our products, feel free to get in touch by emailing contact@shadowrobot.com or calling us on +44 (0)20 7700 2487​