Company News
Jun 23, 2019
Amazon's CEO Jeff Bezos tries our tech!
It's the last day of Amazon re:MARS Tech Showcase in Las Vegas and what an eventful few days it's been! Here's a brief summary of what's been going on including our encounter with Amazon's CEO, Jeff Bezos.
We began our trip by meeting with our fellow collaborators SynTouch and HaptX along with All Nippon Airways (ANA) who funded and facilitated our new technology: the world's first haptic telerobot hand.
It's achieved by combining Shadow Robot's world-leading dexterous robotic hand with SynTouch's biomimetic tactile sensors and HaptX's realistic haptic feedback gloves, enabling unprecedented precision remote-control of our robotic hand.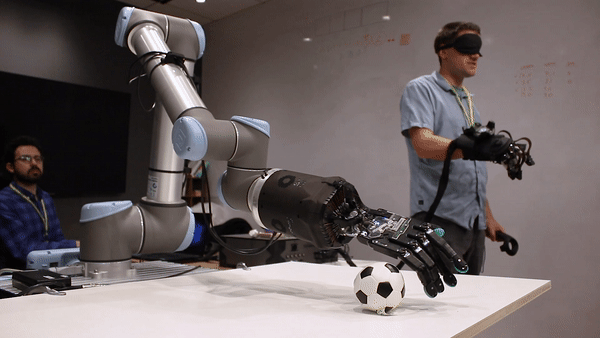 Yes, this is the same tech recently featured in WIRED, Daily Mail, BBC Click (skip to 13.20) to name a few! The attention was on our recent tests where a human operator in California was able to operate a computer keyboard in London, with each keystroke detected through fingertip sensors on their glove and faithfully relayed 5000 miles to the Dexterous Hand to recreate. Digital Trends even call it the "holy grail of robotics"!
Up until now, we hadn't showcased our teleoperation and telepresence technology outside of the lab. At Amazon re:MARS, we were making a grand debut to an audience made up of leading experts in machine learning, automation, robotics and space, as well as the general public. Oh, and did we mention, to the world's richest person, Jeff Bezos.
There we were, in a busy exhibit hall at the Aria Resort and Casino in Las Vegas when Jeff Bezos walks over to try our touch-sensitive, dexterous haptic robotic hand.
Bezos started out with a simple task: picking up a plastic cup and dropping it onto a stack of cups. He then played around with a palm-sized soccer ball looking quite impressed.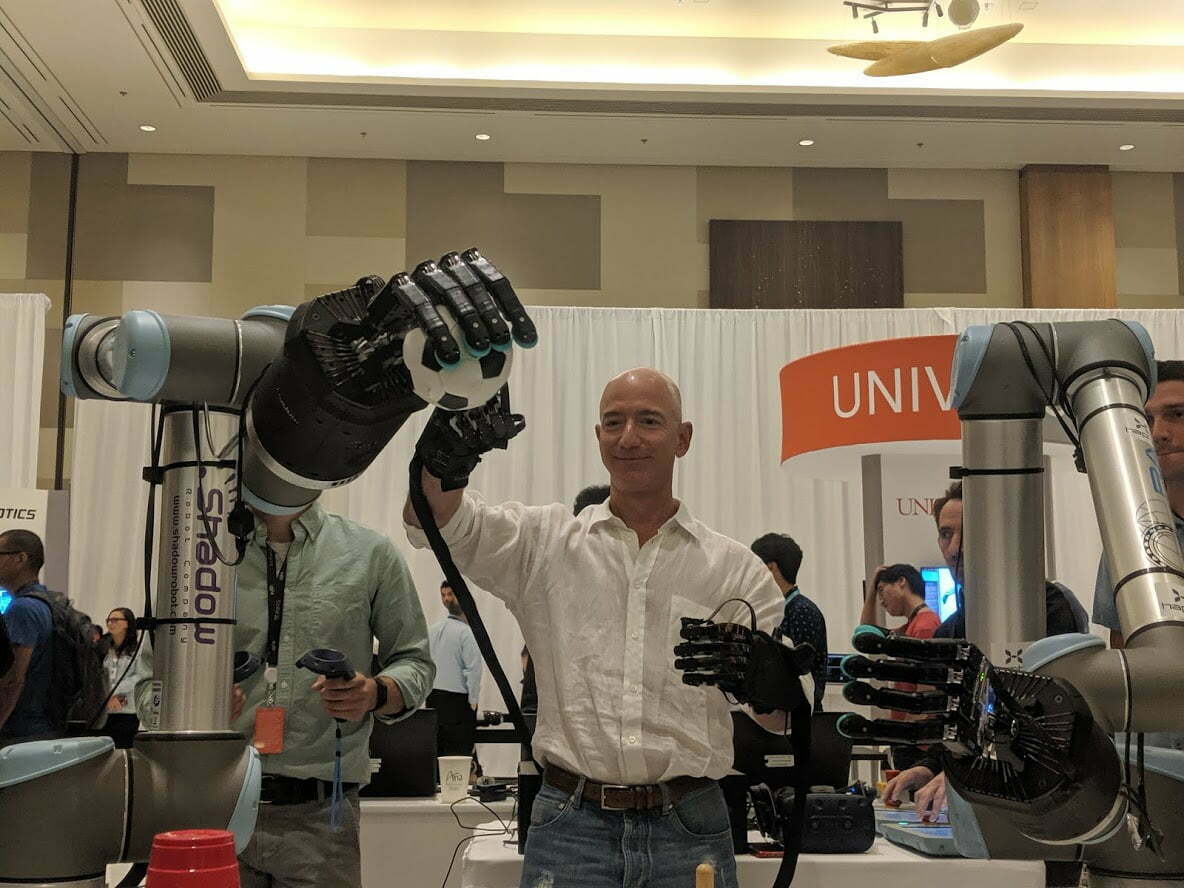 Next, he played with the rainbow ring-stacking puzzle and said, "OK, this is really cool."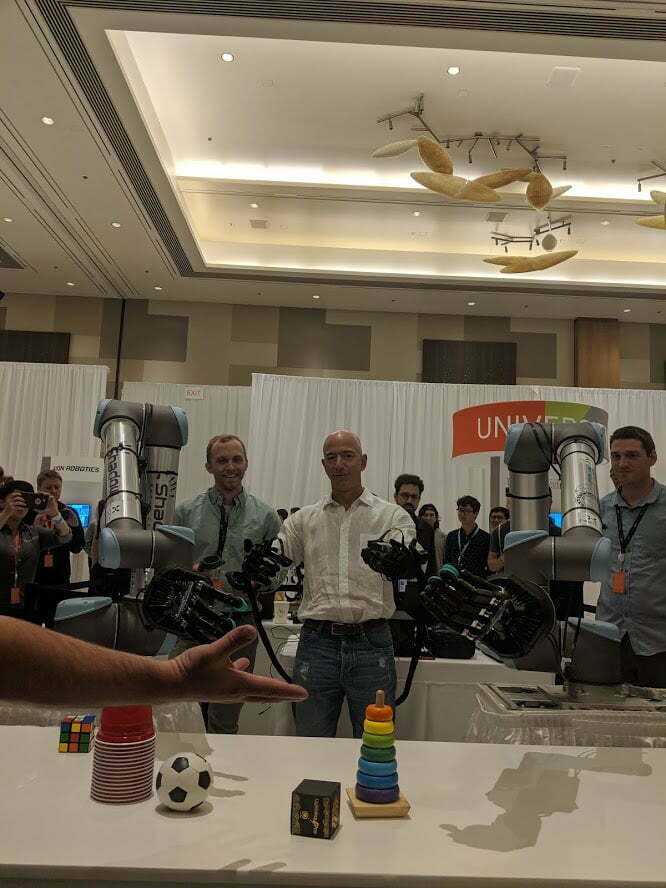 Speaking to GeekWire Aerospace and Science Editor, Alan Boyle, Bezos looked over at the Rubik's Cube on the table. "You want me to solve that Rubik's Cube?" he joked. "I can't even do that with my hands!"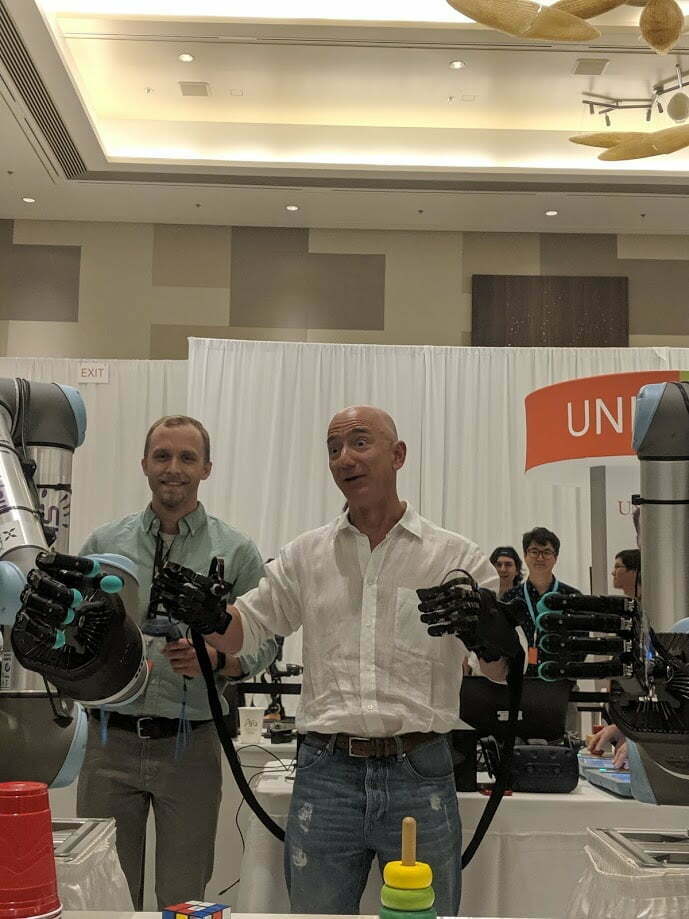 When it was time to move on, Bezos gave his trademark hearty laugh and said, "that is really impressive." He went on to say, "the tactile feedback is really tremendous." After taking off the haptic gloves, one of the spectators asked Bezos how it felt. "Weirdly natural" he responded.
We want to mention how much fun we had engaging with the public too. Seeing people passionate about our technology and telling us how they are fascinated by our work is always something that makes us proud to be doing what we're doing.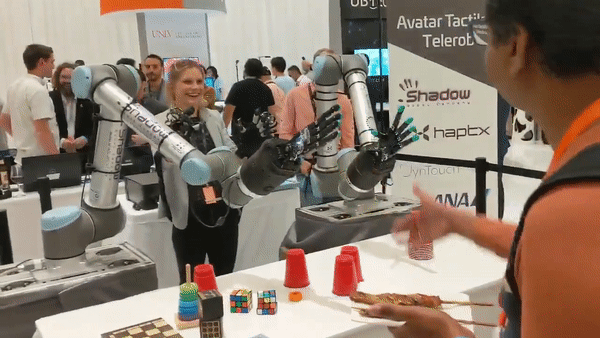 So what's next?
Uniting touch with teleoperation in this way is ground-breaking and points to future applications where we might choose – or need – to perform delicate actions at a distance, e.g. bomb disposal, deep-sea engineering or even surgery performed across different states.
Rich Walker, Managing Director of the Shadow Robot Company says, "Our remotely controlled system can help transform work within risky environments such as nuclear decommissioning and we're already in talks with the UK nuclear establishment regarding the application of this advanced technology. It adds a layer of safety between the worker and the radiation zone as well as increasing precision and accuracy within glovebox-related tasks."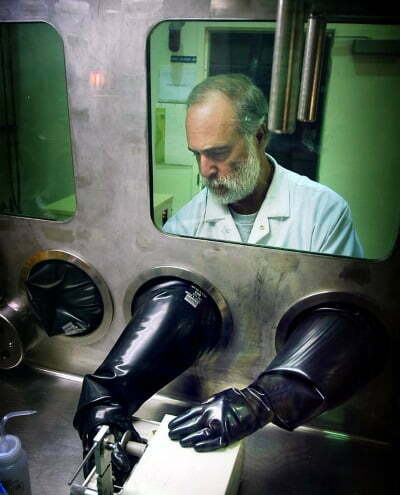 Surely such a revolutionary piece of tech deserves two thumbs up and a victory dance from us!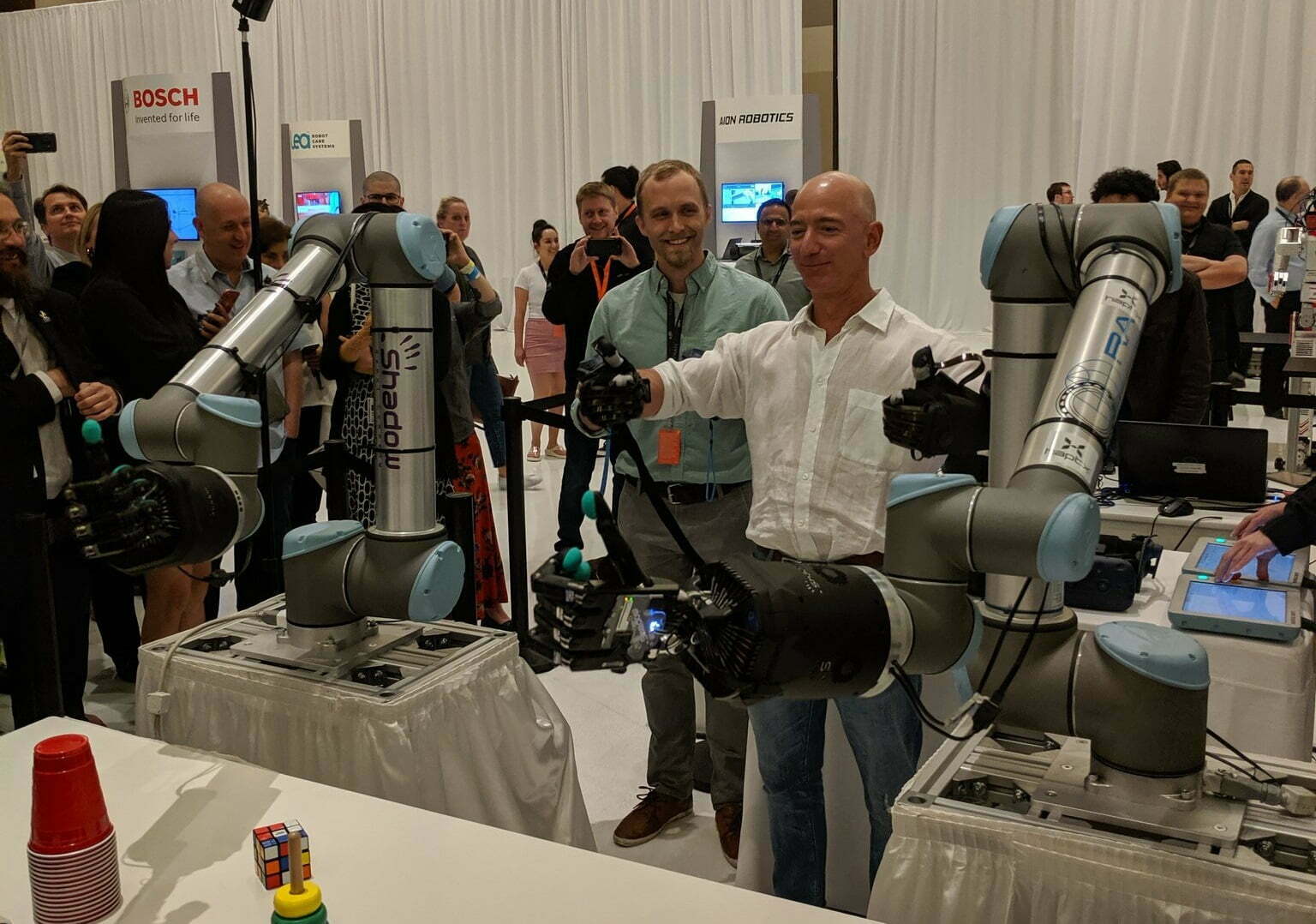 If you'd like to know more about our teleoperation and telepresence technology, email us at contact@shadowrobot.com. For more event footage, keep a look out on our YouTube Channel.