Company News
May 27, 2016
Shadow opens office at Future Space at UWE Bristol
Shadow opens office at Future Space at UWE Bristol
Bristol's newest workspace for the tech/science community welcomes esteemed robotics company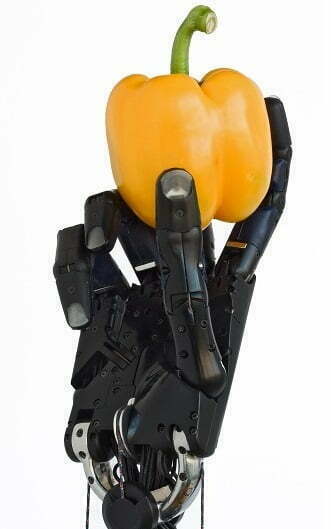 One of the UK's longest-running robotics companies, Shadow Robot Company, have just opened a new office in Bristol's Future Space which is based at the University of West England (UWE Bristol), adjacent to the Bristol Robotics Laboratory (BRL).
Shadow are a partner in the Innovate UK-funded CHIRON project, a two year programme to design care robotics for the future, partnering the Bristol Robotics Laboratory and Designability, amongst others.
Managing Director of Shadow, Rich Walker, said "Having an office in Bristol is perfect for us. We have many links out here in the west of England, and it's a great base for us to work closer with our partners on the CHIRON project.
"We're also keen to build new relationships in this area, and Future Space seems like the best possible fit for us in terms of location and links to other innovators and businesses."
The Centre Director of Future Space, Elaine McKechnie said "The Shadow Robot Company is a perfect fit for Future Space and we are very excited that they have decided to set up a base here. Shadow joins a growing group of engineering and technology companies that are seeking to work in a stimulating environment that will nurture collaborative opportunities."
Associate Professor Praminda Caleb-Solly is leading the BRL element of the CHIRON project, and said, "Ensuring that our research into development assistive robots has the potential to reach people and make an impact in the real-world requires working from the start with commercial partners such as Shadow. The BRL distinguishes itself from other research organisations in this area by working in a participatory manner with not only commercial enterprises who have experience of delivering market-ready products, but also people who will be using technology in their homes and care organisations.
"It makes huge sense for the Shadow Robot Company to take up a base in Bristol. We are working together with commercial partners on other robotic solutions to help older people live for longer in their homes. We're delighted to have such an established robotics team joining us next door to the BRL and hope this proximity will help us develop further research collaborations.'
The CHIRON project (Care at Home using Intelligent Robotic Omni-functional Nodes) looksto create a set of intelligent modular robotic systems, located in multiple positions around your home; CHIRON could help you with personal hygiene tasks in the morning, help you get ready for the day and even support you in preparing your favourite meal in the kitchen.
It is being managed by a consortium led by Designability. The key technology partners are the Bristol Robotics Laboratory and Shadow Robot Company, who have considerable expertise in conducting pioneering research and development in robotics.
Award winning social enterprise care provider, Three Sisters Care will bring user-centered design to the very core of the our project. Smart Homes & Buildings Association will work to introduce the range of devices that will create CHIRON and make it an indispensable presence in our homes.
To find out more about our work in the CHIRON project, visit chiron.org.uk or email us at contact@shadowrobot.com.