Press Release: Tactile Telerobot by Converge Reaches Finals of $10 Million ANA Avatar XPRIZE
Judges recognize the world's first haptic robotic system to transmit realistic touch feedback to an operator located anywhere in the world. The Tactile Telerobot is available to purchase.
Thursday, October 21, 2021 – Converge Robotics Group reached the finals of the $10M ANA Avatar XPRIZE competition for an avatar system that can transport human dexterity to a remote location in real-time.
Converge Robotics Group is an international collaboration between Shadow Robot Company, HaptX, and Tangible Research responsible for developing the Tactile Telerobot, a high-fidelity dexterous telerobot in use in the U.S., U.K., and Asia, and now advanced to the ANA Avatar XPRIZE finals.
The Tactile Telerobot features Shadow Robot's Dexterous Hands, HaptX Gloves DK2 with true-contact haptics, SynTouch's biomimetic tactile sensors, and Universal Robots robotic arms to allow an operator to perform complex human tasks instantaneously across the globe such as handling objects in laboratories or workshops. The Tactile Telerobot mimics your movements, displaying human-like and reactive behaviours. Users can feel what the robot hands are touching, making it possible to connect humanity across vast distances like never before.
The groundbreaking technology of the Tactile Telerobot has been described as "weirdly natural" by Amazon founder Jeff Bezos, who added, "The tactile feedback is really tremendous." The Telerobot's most recent improvements for the XPRIZE Semifinals, hosted in Miami, include the use of high-fidelity audio and visual technology and other safety and usability improvements. It meets the competition's criteria for a non-autonomous Avatar System with which an operator can see, hear, and interact within a remote environment in a manner that feels as if they are truly there.
Rich Walker, Managing Director of the Shadow Robot Company, said, "We're coming up to Shadow's 25th anniversary as a company and what a way to lead up to it by reaching the finals for a four-year global competition! The Shadow Dexterous Hands have been a sought-after product among the research community ever since we formally registered as a company. What the Hands can achieve today, on their own and as part of the Tactile Telerobot, is truly revolutionary and it'll only get better."
"Lifelike touch feedback is a critical component of transporting human presence," said Jake Rubin, founder and CEO of HaptX.  "The Tactile Telerobot demonstrates the difference that true-contact haptics makes in the field of robotic teleoperation, and we're delighted for HaptX and our partners in Converge Robotics Group to receive this recognition from the ANA Avatar XPRIZE judges."
"I'm proud of the accomplishments of our international and interdisciplinary team," said Jeremy Fishel, founder and CTO of Tangible Research and Converge's XPRIZE team lead. "We've brought together experts in robotic dexterity and haptics with the amazing technology of our partners and collaborators to do amazing things."
In the XPRIZE Semifinals, the Converge Robotics Group debuted their collaboration with Voysys, a company that specialises in high-quality, low-latency video communication for the teleoperation of vehicles and machines.
"The combination of the Voysys video pipeline with ultra-low latency, the HaptX Gloves DK2, and the sensitive robot hand from Shadow Robot truly revolutionizes telepresence and makes remote working possible for a whole range of new industries," said Magnus Persson, CEO of Voysys.
"Advancing to the ANA Avatar XPRIZE finals alongside excellent competition is a significant milestone in this journey," said the Converge Robotics Group in a statement "We look forward to showing how our Telerobot system can be used by ordinary people in amazing ways, making engineering jobs safer, reducing the need for global travel (and CO2 emissions) and letting us spend more time at home with our loved ones."
[END]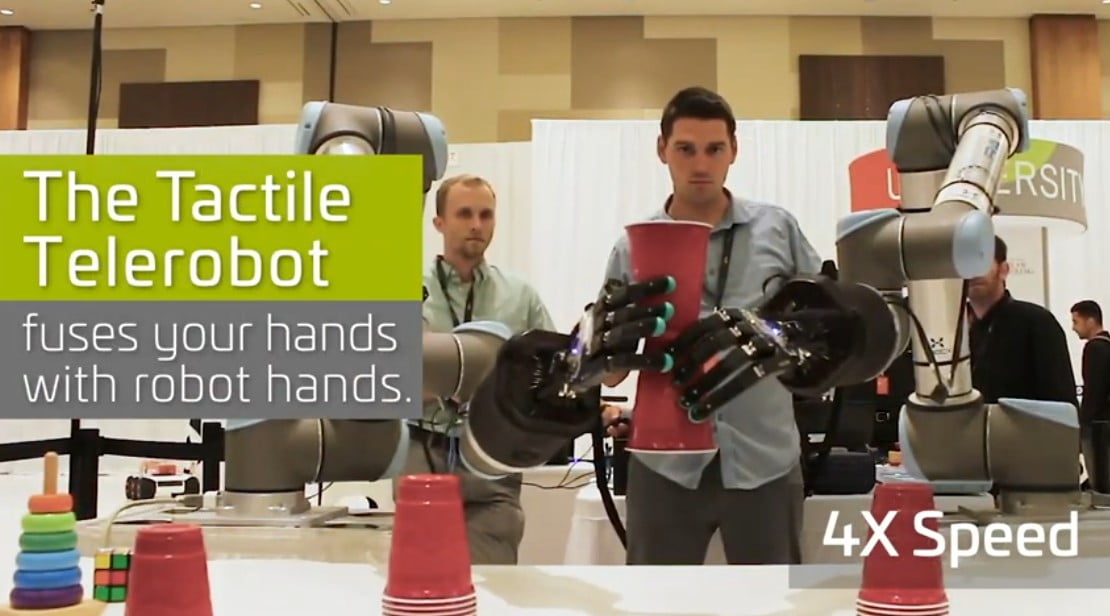 Tactile Telerobot Showreel
Converge's Tactile Telerobot after completion of successful testing round at XPRIZE Semifinals testing 2021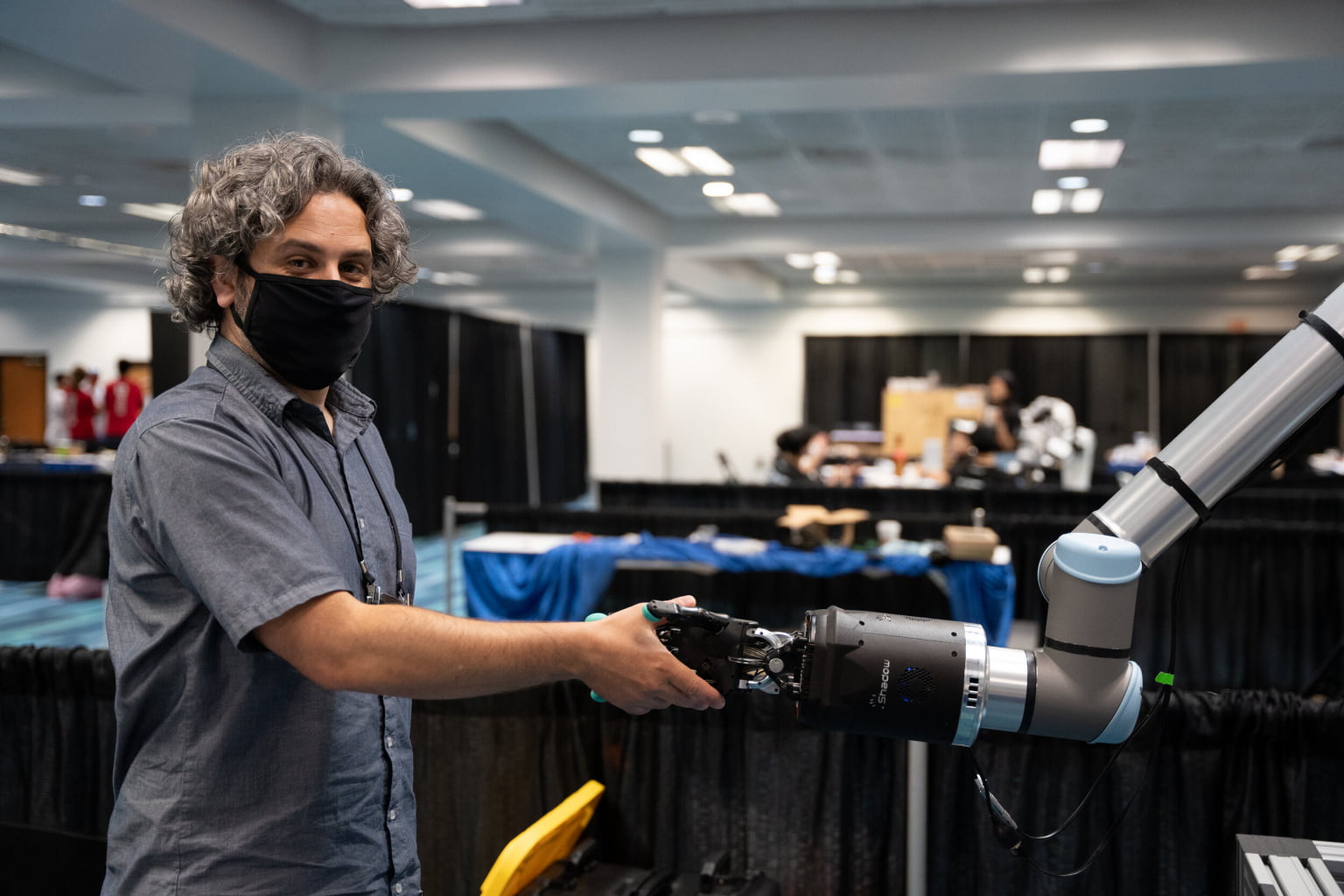 Jeremy Fishel, Converge Team Lead, shaking hands with Tactile Telerobot
Converge Robotics Team and Judges in Miami during Semifinal Testing
ABOUT CONVERGE ROBOTICS GROUP
Converge Robotics Group seeks to extend the reach of human dexterity through the integration of advanced haptic and robotic technologies. Converge's Tactile Telerobot is the world's first robotic system that transmits realistic touch feedback to the operator. For the first time, users can use their hands naturally to control robotic equipment and feel what robots feel as they manipulate objects. The Tactile Telerobot began as an avatar concept, catalyzed by All Nippon Airways (ANA). For the Tactile Telerobot to be further developed and sold, the three collaborators (Shadow Robot, HaptX, and Tangible Research) formed a consortium called Converge Robotics in 2020.
ABOUT SHADOW ROBOT
Britain's longest-running robot company building awesome robots to make working lives better. Shadow has worked with companies and researchers across the globe, looking at new ways to apply robotics technologies to solve real-world problems. They develop and sell the Shadow Dexterous Hand, recently used to advance research into Machine Learning and Artificial Intelligence. The company is also a pioneer in the fast-developing field of teleoperation to help humans in difficult, dangerous and distant jobs – such as pharma labs, nuclear decommissioning and remote maintenance tasks. For more information, please visit us at www.shadowrobot.com. For real-time updates, follow us on LinkedIn, Twitter, Facebook and YouTube.
ABOUT HAPTX INC.
Founded in 2012 by Jake Rubin and Dr. Robert Crockett, HaptX is a technology company that simulates touch sensation with unprecedented realism. HaptX Gloves enable natural interaction and realistic haptic feedback for virtual reality, teleoperation, and telepresence for the first time. HaptX is a venture-backed start-up with offices in San Luis Obispo, CA and Seattle, WA. www.haptx.com
ABOUT TANGIBLE RESEARCH
Tangible Research, founded by Dr. Jeremy Fishel, former CTO and co-founder of SynTouch, is a research and development company focused on advancing the technology and capabilities of telerobotic systems. With significant expertise in tactile sensing and haptics, which is essential to human hand dexterity, Tangible works with key technology partners and end-users to identify challenges and opportunities to advance the technology into new applications. For more information, to collaborate, or discuss your industry needs and challenges please visit us at: www.tangible-research.com and LinkedIn.
About XPRIZE
XPRIZE is a global future-positive movement of over 1M people and rising, delivering truly radical breakthroughs for the benefit of humanity. XPRIZE inspires and empowers a global community of problem-solvers to positively impact our world by crowdsourcing solutions through large-scale competitions, tackling the world's grandest challenges in exploration, environment and human equity. Active competitions include the $100 Million XPRIZE Carbon Removal with Elon Musk, $15 Million XPRIZE Feed the Next Billion, $10 Million XPRIZE Rainforest, $10 Million ANA Avatar XPRIZE, $5 Million XPRIZE Rapid Reskilling and $1 Million Digital Learning Challenge. Donate, sign up or join a team at xprize.org.
ABOUT ANA
Founded in 1952 with just two helicopters, All Nippon Airways (ANA) has grown to become the largest airline in Japan. ANA HOLDINGS Inc. (ANA HD) was established in 2013 as the largest airline group holding company in Japan, comprising 71 companies including ANA and Peach Aviation, the leading LCC in Japan. ANA is a launch customer and the largest operator of the Boeing 787 Dreamliner, making ANA HD the biggest Dreamliner owner in the world. A member of Star Alliance since 1999, ANA has joint venture agreements with United Airlines, Lufthansa German Airlines, Swiss International Airlines, Austrian Airlines and Brussels Airlines – giving it a truly global presence. The airline's legacy of superior service has helped it earn SKYTRAX's respected 5-Star rating every year since 2013, with ANA being the only Japanese airline to win this prestigious designation for nine consecutive years. ANA also has been recognized by Air Transport World as "Airline of the Year" three times (2007, 2013 and 2018); it is one of only a select few airlines to win this prominent award multiple times. In 2021, ANA was awarded the 5-star COVID-19 safety rating by SKYTRAX, recognizing the airline's initiatives to provide a safe, clean and hygienic environment at airports and aboard aircraft, embodied in the ANA Care Promise. ANA is the only company in the aviation industry to receive the Gold Class distinction from the 2021 S&P Global Sustainability Awards and ANA HD has been selected as a member of the Dow Jones Sustainability World Index list for the fourth consecutive year and the Dow Jones Sustainability Asia Pacific Index list for the fifth consecutive year. For more information, please refer to the following link: https://www.ana.co.jp/group/en/
MEDIA CONTACT:
Contact Name: Ms Jyoti Kumar – Comms Manager at Shadow Robot
Contact Email: jyoti[at]shadowrobot.com
Phone: 020 7700 2487