What happens when you buy a robot hand?
Shadow Dexterous Systems are complex technology, and they represent a serious investment from your side in our hardware. That is why we want to help you understand our process, from the first time you contact us, to what happens after we deliver the robot to you.

Consultation, Demo, Purchase
Our first step is always to have a call with you to understand what you are trying to do with the robot hand, so we can make sure we line up the right hardware and software options for you – and see what else you might need from other people. Sometimes that call concludes with "You don't want a robot hand from us – have you tried Schunk/Allegro/…" – because the last thing we want to do is to sell you something that won't work for you!
We might set up an online demo for you so you can see the particular hardware in action and get a feeling for what we're talking about when we discuss the differences between sensor technologies or sizes of robot arms.
And you may talk to our software team to understand how integration with your own software stack might proceed, as well as to get a feel for what kind of things you can do to control or tune the robot performance.
Our commercial team will work with you to get the best terms we can for price and delivery time, and to make sure that we're clear on what you will receive and where it will go. And they'll help your procurement team as much as possible to make sure that the purchase goes through your processes smoothly.
Once we're all in agreement on that, and your formal purchase order arrives in our inbox, then our production crew set to work!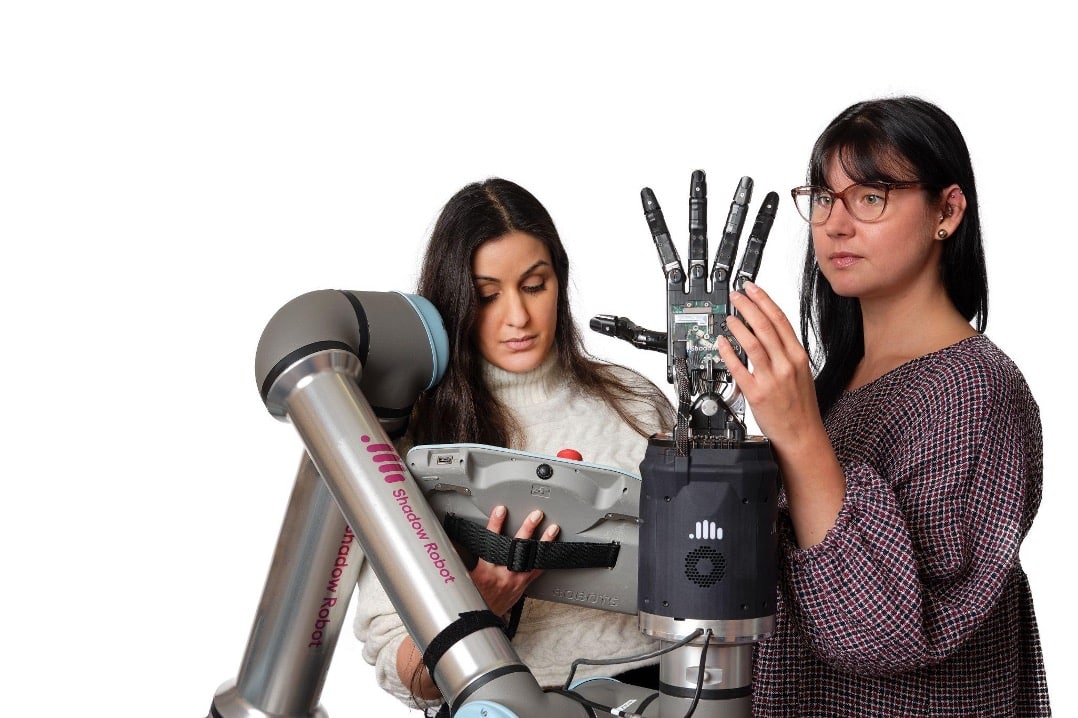 Production & Training
Some of the components of the Shadow Dexterous System have longer lead times than others, and we can't order them until we have the PO. So we do that straight away, and that sets the entire schedule! Whilst there are components we keep in stock, we assemble the bulk of the Shadow Hand and the rest of the systems to order, because there are usually  variations and customisation needed. Our production team set to work on allocating part-built components like fingers and motor units and they schedule any necessary electronics manufacturing, as well as planning the ordering of other subassemblies and subcontracted parts.
Once the assembly is properly scheduled our Customer Success team come alive. They will get in touch with you and start to confirm delivery dates and training plans for you. They will find out how you are planning to use the system, in order to tailor the training to your needs. This might mean someone from your team coming to visit us, or we might do it online, or we might need to visit for the installation and setup.
A couple of weeks before the production finishes, our logistics team will get in touch to book your time for delivery and start to arrange the shipping, making sure we've got the right paperwork for customs, the right name and address on the delivery, and dates for training.
Shipping & Setup
Once our production team have finished the assembly and the system tests and the "Factory Acceptance Test"  have all passed, your system is packaged in sturdy cases and shipped to you!
Our logistics team track the shipping very carefully – we're aware that Customs can be a pain, and we want to make sure that is sorted so it's as easy as possible.
Once the system arrives at your door, our Customer Success team will pick up the baton and they will work through the setup and training, which may be remote or may be in person. Our team will take you through how to setup the system, how to operate the various components of it, how to do some basic maintenance, and understand what you are trying to do with the hardware so it can be as easy as possible for you.
Once we're all happy that the system is working for you, we let you get on with your work. But rest assured that our Customer Success team are ready if you have questions or problems – they can direct those to the right people straight away. And of course we love to hear what you've done with the product – do get in touch to let us know!