Press Release: Shadow Robot is named as 2020's top innovators 3 times!
Local company in the London Borough of Camden wins a hat-trick at the E&T Innovation Awards 
London-based, Shadow Robot, has been announced as a winner by E&T magazine for their 2020 Innovation Awards under three categories. The Awards celebrate the most pioneering engineering and technology innovations across 16 sectors, from energy and sustainability to transport and healthcare.
Chosen from over 345 entries, Shadow Robot's collaborative Tactile Telerobot won under:
1) Excellence in R&D
2) Intelligent Systems
3) Tech For Good
The Tactile Telerobot is the world's first haptic telerobot hand allowing for cross-country teleoperation. It is a collaboration between Shadow Robot, HaptX and Tangible Research – funded and facilitated by All Nippon Airways. Find out more about the product and collaborators here.
See it in action: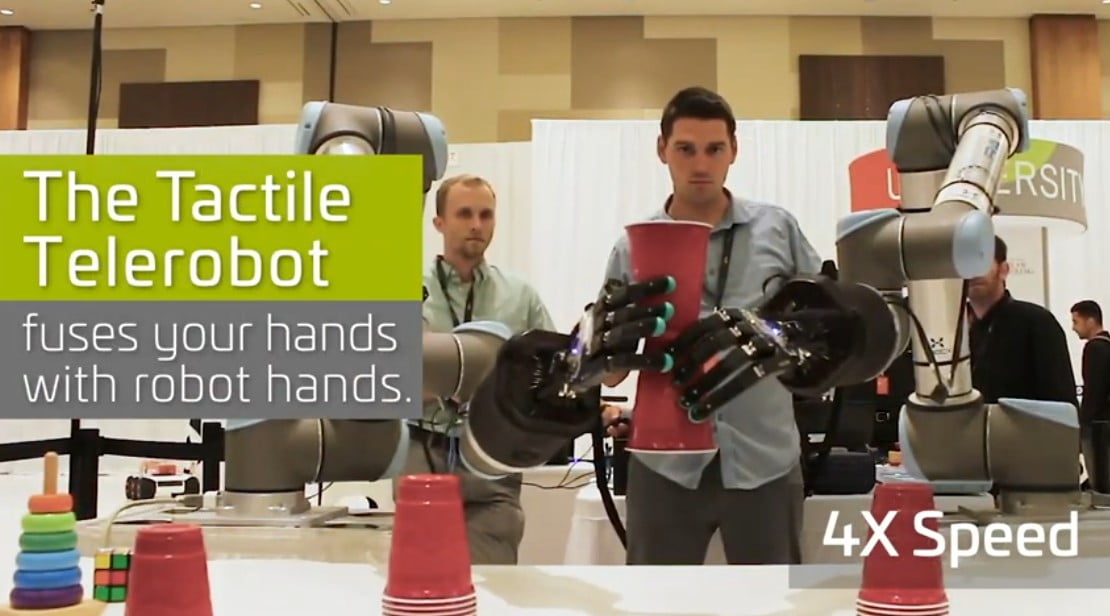 Rich Walker, Managing Director says: "The phrase 'innovation is a team sport' is really big at Shadow and our Tactile Telerobot is truly a result of a team effort from both internal staff and our external collaborators.
"We're honoured to receive this recognition in three categories! There's a lot of scaremongering around robots in the media, so to win "Tech for Good" is wonderful and highlights how we take a compassionate and ethical approach to robotics. Our technology can help workers across the globe perform dexterous tasks at a safe distance which, as we know, is crucial for future pandemics. We're in this together."
IET President, Professor Danielle George said: "There has never been a more important time to recognise and celebrate the innovations that are bringing about real change and are helping to solve the global challenges we face today. In these uncertain times, we need innovators and creative minds from across all sectors to work together to tackle the COVID-19 pandemic.
"These annual awards celebrate the achievements of the most outstanding innovations across engineering and technology. The finalists this year all demonstrate the imagination of engineers worldwide and we are so proud to show our support for these exceptional minds. A huge congratulations to all our winners."
This year's awards took place on 19 November 2020 during a virtual ceremony.
More information about this year's Innovation Awards winners can be found at https://ow.ly/birs50BxZ7L 
ENDS
ABOUT SHADOW ROBOT
The Shadow Robot Company is Britain's longest-running robot company (winners of the Queen's Awards 2019 under Innovation) and is experts at grasping and manipulation for robotic hands.
Shadow has worked with companies and researchers all over the world, looking at new ways to apply robotics technologies to solve real-world problems. They develop and sell the Dexterous Hand, recently used to advance research into AI (having won the AIconics Award for best innovation in AI hardware 2019), and the Modular Grasper, an essential tool for supporting industry 4.0.
The company is also a pioneer in the fast-developing fields of teleoperation and telepresence with their tactile telerobot, where the Shadow Hand is combined with sensors and controlled via a haptic glove for touch feedback. Shadow's technology is designed to take human operators out of harmful situations – such as nuclear decommissioning and bomb disposal.
The tech is also being developed for space as part of the AVATAR X programme resulting from work with ANA, making it their third collaboration with a space agency, with the first two being NASA and ESA (European Space Agency).
Web: www.shadowrobot.com
About the IET
We inspire, inform and influence the global engineering community to engineer a better world.
We are a diverse home for engineering and technology intelligence throughout the world. This breadth and depth means we are uniquely placed to help the sector progress society.
We want to build the profile of engineering and technology to change outdated perceptions and tackle the skills gap. This includes encouraging more women to become engineers and growing the number of engineering apprentices.
Interview opportunities are available with our spokespeople from a range of engineering and technology disciplines including cyber-security, energy, engineering skills, innovation, manufacturing, technology, transport and diversity in engineering.
For more information, visit www.theiet.org