Company News
Sep 30, 2019
Shadow at the UK Space Conference 2019
The UK Space Conference is the main space sector and industry event in the UK. This biennial flagship event brings together the entire space community, including government, industry, academia, research and financial communities.
This year, the UK Space Conference took place over 3 days 24-26 September 2019 in Newport, South Wales. Shadow in collaboration with the Future AI and Robotics for Space (FAIR Space) Hub has been through a highly competitive application process to successfully secure an exhibitor place in the Innovation Zone of UKSC. Nikos Mavrakis from Prof Yang Gao's team with support from Shadow Engineers developed a demonstrator for UKSC
It's a fitting collaboration as the FAIR-SPACE Hub at University of Surrey delivers research in robotics for orbital and planetary environments. Using our robot hand technology, which is a key component in our new teleoperation system, and an algorithm for Autonomous Visual Grasping developed by Nikos, we were able to showcase a demo on how an autonomous orbital robot could grasp the engine nozzle, popularly known as apogee kick motor in space terms, of an orbital target.
The visual-based algorithm can generate many grasping points from a nozzle point cloud and select a reachable grasp. The whole process is very fast, taking just under 0.2 seconds.
The robot can then reach the nozzle and grasp it firmly using the Shadow Hand. As the engine nozzle is part of both active and inactive orbital targets, potential applications include in-orbit servicing of satellites and active debris removal. The speed of the processing algorithm, along with the Shadow Hand's unique dexterity open new possibilities in the novel and under-explored field of robotic grasping for space applications.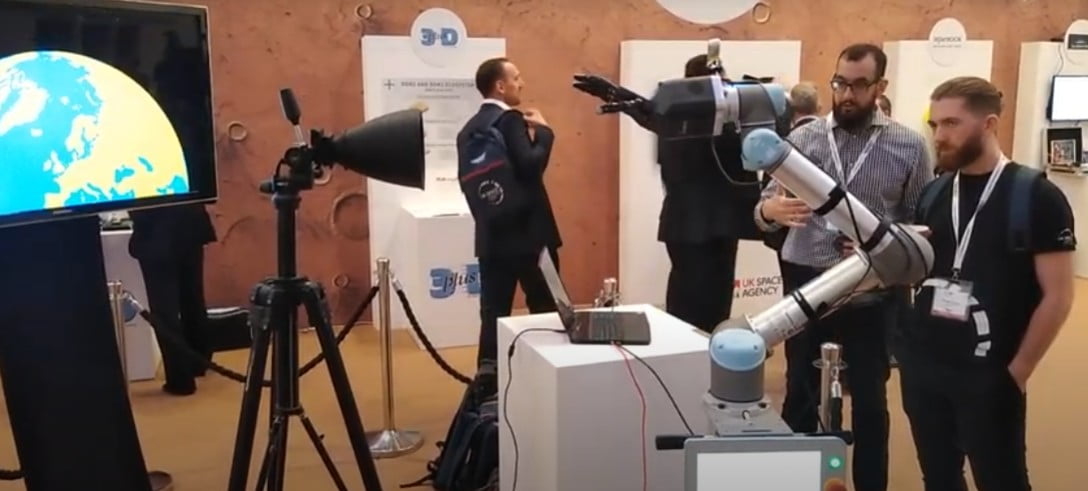 Of course, there are challenges of taking our tech into space, from potential radiation damage and overheating to using better materials suited to space environment, however, we had a chance to connect and chat with key professionals around the mitigation of these issues. For example, radiation testing and/or hardening can be explored along with testing out radiator fins or similar passive cooling systems.
The event provided us with several possible collaborations with leading organisations. Some were interested in space-qualifying our tech and some were more specific around satellite servicing and/or space debris removal.
On an exciting endnote, the event also provided us with the opportunity to meet and talk to the astronaut, Tim Peake!
Shadow's new Teleoperation System is being developed for space as part of ANA'S AVATAR X programme with involvement from Japan Aerospace Exploration Agency (JAXA), making it Shadow's third collaboration with a space agency, with the first two being NASA and ESA. 
If you'd like to discuss space opportunities with us, please email contact@shadowrobot.com.